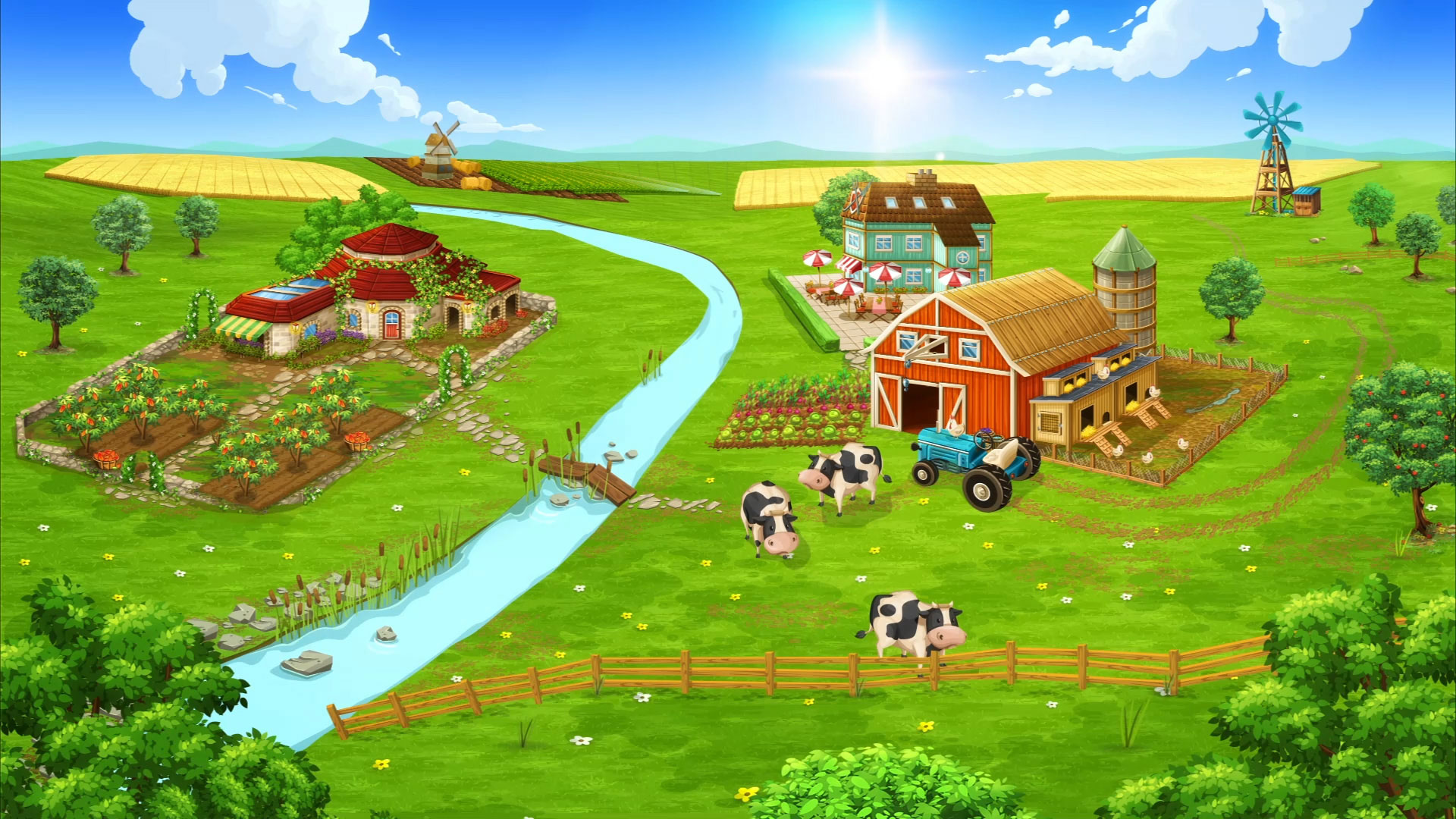 6 Best Farm Games To Fulfill Your Farming Dreams
It's not surprising news that farm games are one of the most popular game genres that you can find. The allure of a simple life as a farmer tending to animals and plants is a great way to escape the hustle and bustle of life for many people! Not only are they incredibly fun, but they're also a great way to improve your management skills! But with so many different farm games to choose from, it can be tough to know where to start.
Farm games are usually very deeply layered and can be quite challenging. Many people enjoy playing these games because they offer a great way to relieve stress and tension while also providing tons of fun. If you are looking for a way to occupy those long gaps of time or just want to have some fun, consider playing one of these games at GameTop and downloading them right now! Don't fret, though, in this article, we'll share five of our favorite farm games that we think you'd love to play! Without further ado, take a look at the farm games below!
List of games:
1. Goodgame Big Farm
Enjoy a thrilling farm life with Goodgame Big Farm, developed by Goodgame Studios. Plant, harvest, and trade goods to keep your dream farm alive as you the player build up your very own farming empire in this free farm simulator online game!
Bring the overgrown barnyard back to life and turn your business into a flourishing business. Grow crops, harvest, and look after your fields and all your farm animals. Show how entrepreneurial you are by selling your homegrown products at the organic market. Make your farm a paradise for animals, and adorn your fields, stables, and buildings with beautiful decorations. Pour your profits into expanding your farm until you become the greatest farmer in all the land!
The harvesting year is full of events. Join a quest for the villagers and write the story of your farm. Help the villagers organize a fairy tale festival, expose the secrets of UFO sightings, and get into the Christmas spirit… Are you ready to build the farm of your dreams?
If you enjoy playing Stardew Valley or Mobile Harvest and managing and growing farms at a relaxed pace, Goodgame Big Farm may be the perfect simulation game you are looking for!
2. Farmcraft
Farm Craft is a tale of good vs. evil. Our hero, Ginger, helps various rural farmers take on the Agro Corporation, a big agricultural conglomerate that wants to develop the land outside of town. It's up to Ginger to keep her farm and save the village (heck, the whole county is counting on her). Don't be afraid to get your hands dirty in this addictive time-management farm game that digs its way into the farming, flower, livestock, and beekeeping businesses. It's charming farming. Download the free full version game and start building your farm now!
Free Game features:
Excellent graphics;
Fun, addictive play;
Build and design your farm to meet your needs;
New and challenging elements added with each level;
Hone your skills to earn all 12 awards.
3. Gardens Inc 2: The Road to Fame
In Garden Inc 2, help this Sunnyvale duo expand their gardening business and uncover Cliff Gold's plans to thwart their contest. Time management becomes really crucial as you race to prepare for the upcoming garden competition. Build essential structures and harness the resources needed for the garden.
4. Youda Farmer 3: Seasons
Cold winters, bug-ridden springs and hot summers will put your farming skills to the ultimate test. Build new farms and shops to handle all the takeaway orders and buy tools in the pawnshop to improve your workflow. Save up to build your very own Hotel and serve hungry guests your finest dishes. Eventually show off your farming abilities in different challenges during the annual Country Fair.
Free Game features:
Rebuild your town and farm in this Time Management challenge for the entire family;
Play over 70 levels through cold winter, bug-ridden spring, hot summer and stormy fall;
Deliver materials and goods to build new farms and shops with your trusty pick-up truck;
Handle Take Away orders for the brand new restaurant and feed the townsfolk;
Play mini-games at the carnival and build your very own hotel for visitors.
5. Exotic Farm
Jill's dream has finally come true! She has her very own farm on her very own island. What could be better than living on a remote and beautiful island tucked away in the middle of the ocean! Join Jill on her own, newly acquired farming island. Brimming with local fruits and vegetables this is one of the most stunning islands in the ocean! While on the island you will need to help Jill grow and look after exotic fruits and help rear free-roaming animals which populate the island. She will also need help to run all that farm machinery in Exotic Farm. Use your fabulous time management skill to deliver targets so you can buy new machines. This is one hard working farm. Download free games today and work your farm under the gorgeous sun and help Jill with your farming talents.
6. Jack of All Tribes
Jack was at the fun park having the time of his life, but little did he know that the next ride would thrust him into the adventure of a lifetime. Through some strange occurrence, he was sent back in time and landed on a primal isle where the natives declared him their leader. Now he must help them build shelters, forage for food, turn back enemies, and mix drinks! Join Jack on this island that time forgot and help him lead the natives while searching for a way back. Guide the tribe to construct useful buildings, collect needed resources, and decorate the landscape. They will then reward you with tributes and helpful items to make it through. Introduce new technologies, play fun farming mini-games, and earn fantastic rewards.
General Benefits of Playing Farm Games
Farm games offer players a unique and challenging gaming experience that is both enjoyable and rewarding. These games are perfect for players who enjoy a good challenge and are looking for something different to play, while also not having much time to play them.
GameTop offers a great selection of farm games that are sure to provide hours of fun and excitement. So why not give one of these games a try today? You may be surprised at just how much fun you can have!