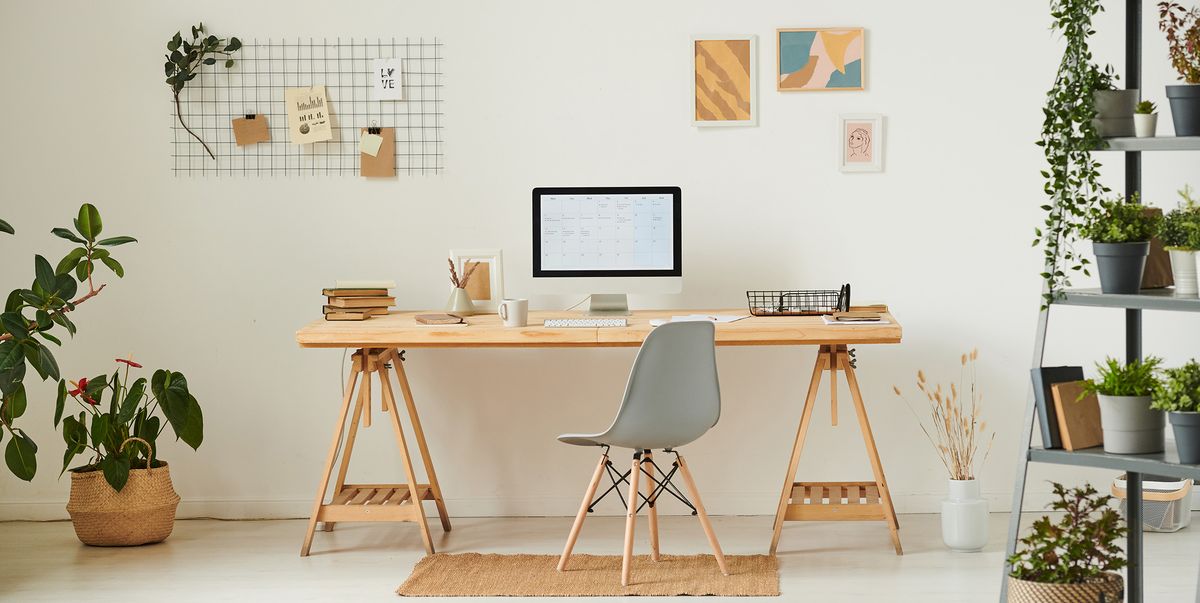 4 Practical Home Office Decor Ideas
Since the pandemic, we all have some kind of home office. Either it is a spot in the kitchen, a designated area in the living room, or actually a whole room for working. Even if you have been working from home prior to the pandemic, home office decor tips are always a good idea! A space for creation and hard work needs to be properly decorated to inspire and lift the spirit. Keep reading and get some ideas for your home office!
Stick and peel wallpaper
Stick and peel wallpaper is an easy way how to give a room or an area in the room a fresh feel. Whether you have a whole room for a home office or just a nook in the living room, stick and peel wallpaper is the thing that can make it feel like a totally different space compared to the rest of it.
Why choose stick and peel wallpaper?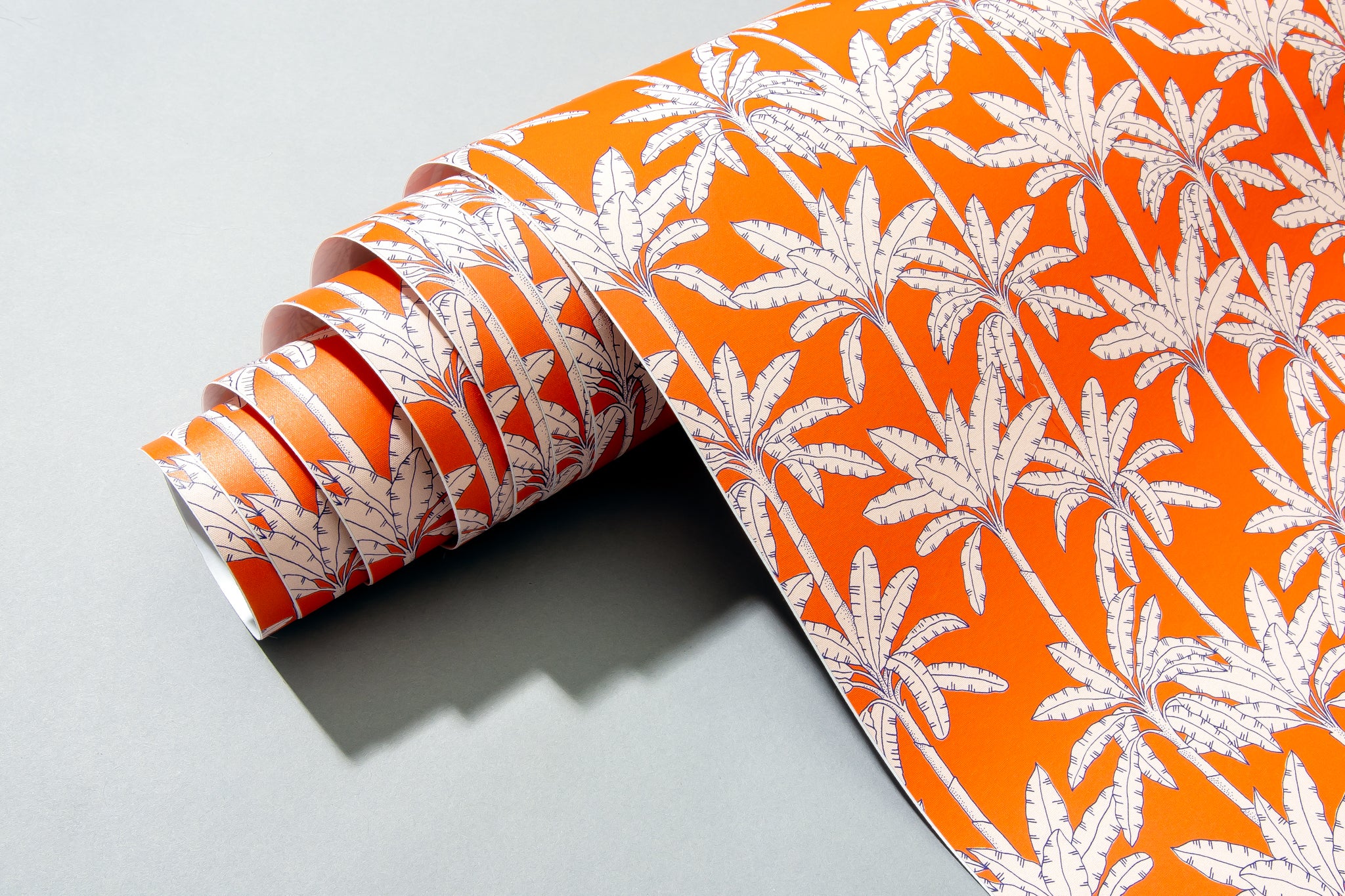 It is easy to install. You don't need to work with glue cans or anything of that sort. You will only need a sharp paper knife, scissors, and a flat tool that can help you smooth out the air bubble and stick the wallpaper to the wall. Also, not a must but a friend who helps you with this task can be a benefit since walls are pretty high compared to human height.
Not a big investment. Stick and peel wallpaper generally is cheaper than traditional wallpaper (it all depends on the brand, design, material, and so on, of course). Also, it doesn't require any extra steps like asking a handyman to hang the wallpaper, so you avoid additional fees.
Amazing designs. Stick and peel wallpaper has some wonderful designs! You can get already a pre-made design, or if you are feeling especially creative – try to make your own! That's right, there are print on demand companies that offer custom-made stick and peel wallpaper, and one of them is printseekers.com. If interested, definitely check out their offer!
Easy to remove. This is a plus if you are a renter or thinking of changing the office space often. It is very easy to remove – just peel it off from one corner. And the best part is, stick and peel wallpaper doesn't leave any glue residue on the wall, so the walls underneath are not damaged in any way.
How to decorate with stick and peel wallpaper?
Here you can have different approaches. Stick and peel wallpaper can be used for the whole room. Even though it is easy to remove this type of wallpaper, it doesn't mean it doesn't stick to the walls well. You can go for a subtle print for the whole room or have a different print for every wall (just make sure they go well together).
Another option is to have an accent wall. Choose one wall and make it the accent with a printed wallpaper but leave others blank.
If you are working with just a nook or a corner in another room, stick and peel wallpaper is perfect to make that spot stand out and create there an office atmosphere. You can cover as little as you want with the stick and peel wallpaper, even just a few inches. Anything that can help you get into the work mood and separate the work area from the home areas.
Inspirational posters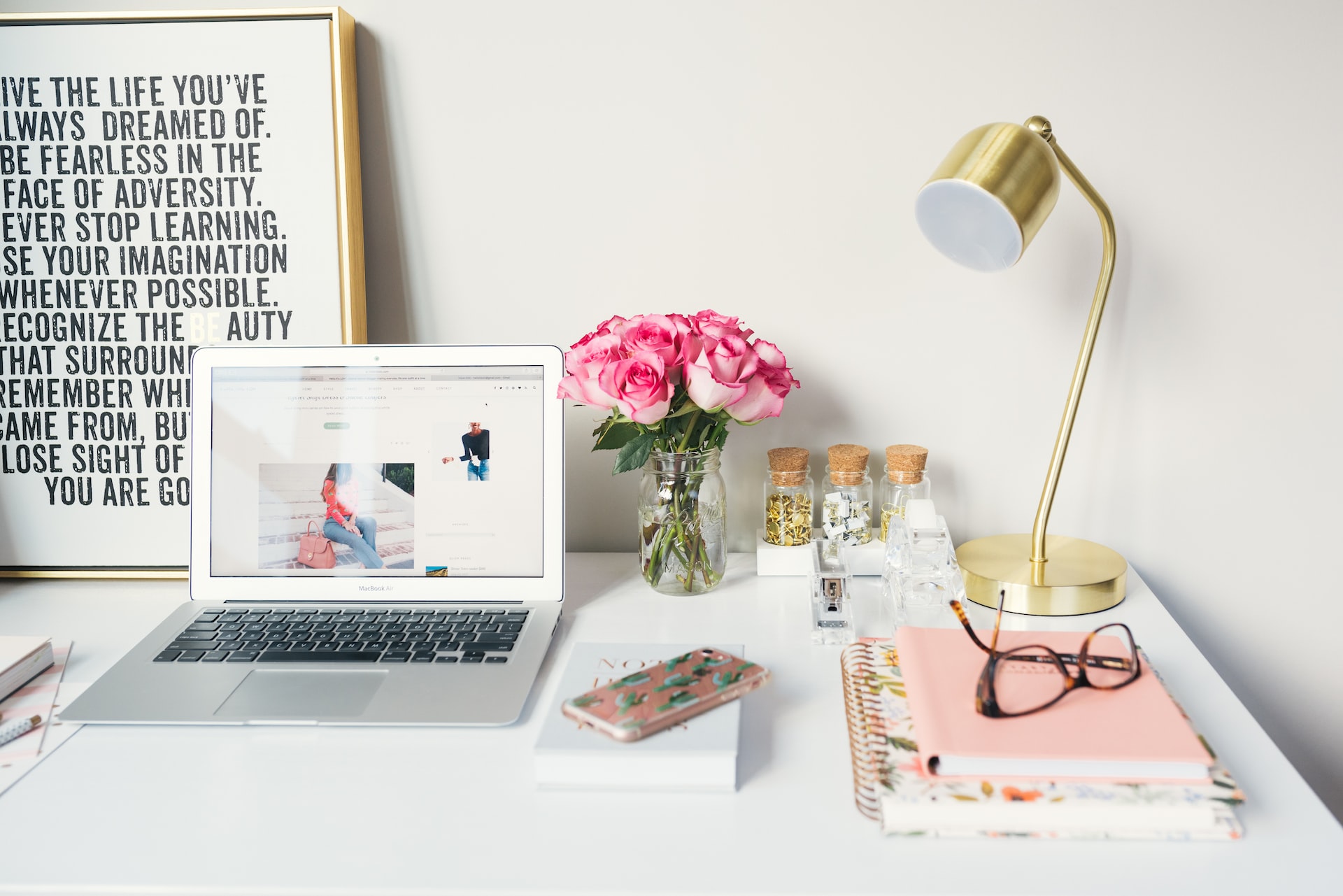 There is always room for wall decoration in an office. Whether it is a public office, a home office, or just a home office nook. An inspirational poster is a great idea how to boost your mood while working, express your values and keep the spirit up!
You can get an inspirational poster pre-made or order one from print on demand supplier. If you are looking for a pre-made one, a good place to explore is Etsy. If you are thinking of making your own. They are a print on demand supplier, that offers high-quality products and wonderful customer service. They are definitely worth checking out. Just remember that you will need to have a design ready to print a poster with a print on demand supplier.
Not sure what to write on an inspirational poster? Here are a few ideas!
Work hard and be nice to people
Your dreams don't work unless you do
Hard work beats talent
Good things come to those who wait, but the best things come to those who do
The future depends on what we do in the present
The only way to do great work is to love what you do
Big journeys start with small steps
Today is another chance to get better
Whiteboard, corkboard, or metal grid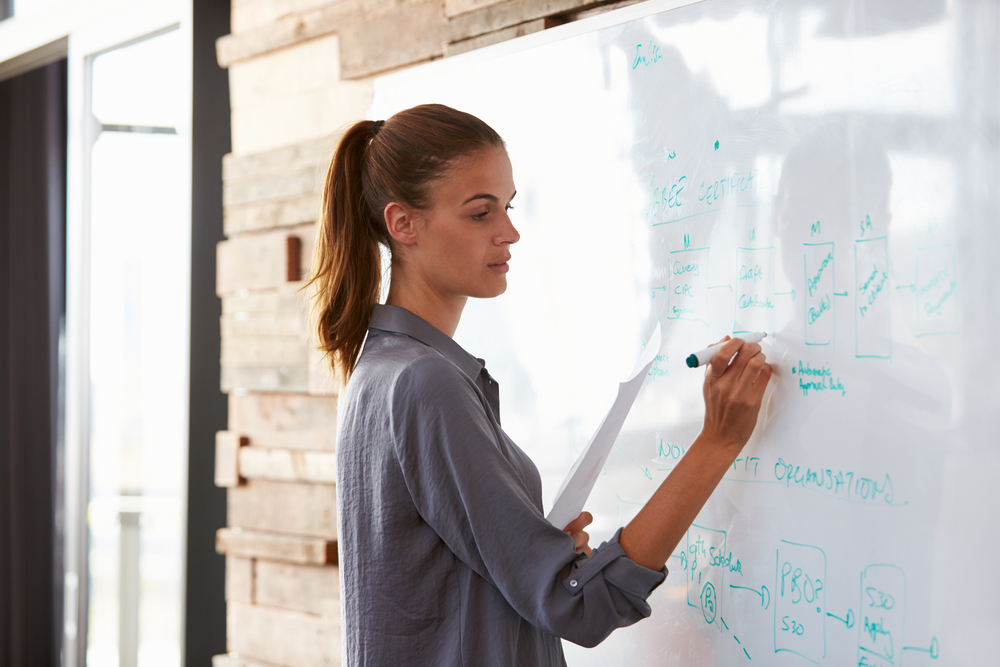 Boards that help you focus your thoughts, boost productivity, and are just practical. That includes a whiteboard, corkboard, or a metal grid where you can clip notes and other stuff to.
Whiteboard. Whiteboard is a decoration/practical tool that can help you to plan your work better as well as gives a blank slate feeling which sometimes is needed in a work environment. There are whiteboards in different sizes, so you can definitely find one that works best for your office space.
Plexiglass board. To have a bit more stylish whiteboard, you can go for a plexiglass board. It works just as a whiteboard, except that it is clear. So to use it you need to make sure you have a good background for it, so you can easily read your notes.
Corkboard. A corkboard is perfect for paper notes, photos, and other reminders you can pin. It is similar to a whiteboard except you cannot directly write to the corkboard but you can put on there as big notes as you want to.
Metal grid. A metal grid works similarly to a corkboard just has a different look and the back surface is not as flat as the one of a cork board. A metal grid will definitely give you the Pinterest office vibes, so if that inspires you, definitely get at least a small metal grid organizer for your office.
Storage – boxes, baskets, and organizers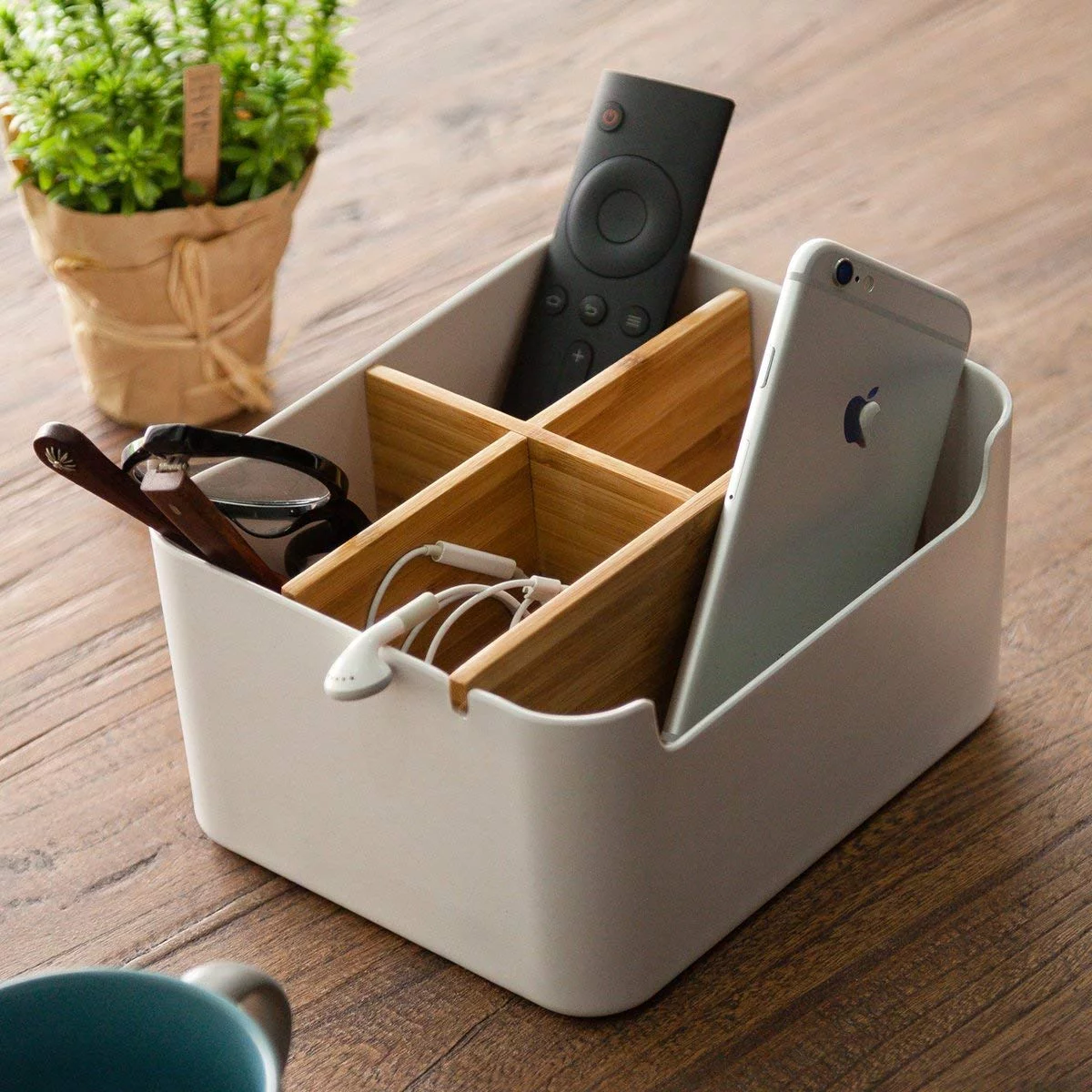 There is nothing better than a tidy workplace. Even if you make a mess while working, definitely make sure you tidy everything up after your work session is over. To help you do that, you can use different storage solutions from boxes and baskets to dedicated office organizers. Let's have a look!
Boxes. Boxes are great for bigger things, for example, cords, chargers, airphones, etc. You can also store notebooks in boxes. Boxes can be made of paper, plastic, acrylic, or wood. It all depends on your desired aesthetic.
Baskets. Baskets work in a similar way as boxes, they just have a different look. Choose whatever suits your style better!
Desk organizers. These are perfect for papers, documents, notebooks, pens and pencils, and other writing tools. You can get desk organizers that are inserted into drawers or that are put on a table. All are good to make sure every item you use for work has a designated space.
Conclusion
Decorating an office is easy – all you need to do is think about practicality and then marry it with your desired aesthetic look. Even if it is a small area, your office can reflect you and the work you do, making it the perfect workstation. Happy decorating!