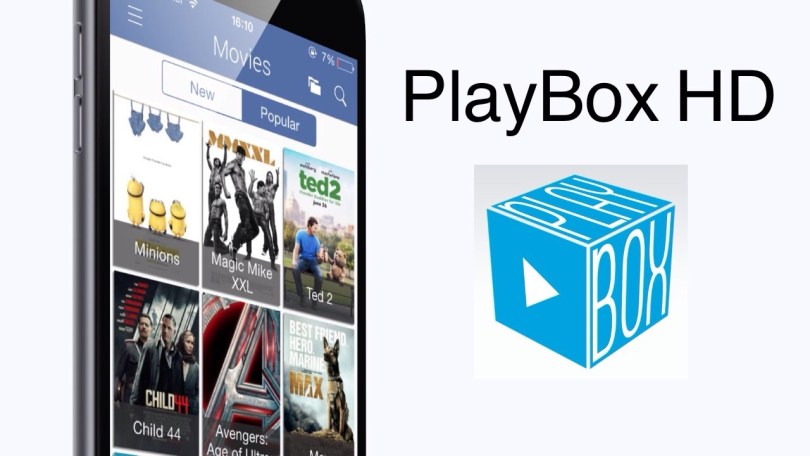 PlayBox HD Not Working On iPad/Android/iOS Crashing Fix
I've been using PlayBox App on iPhone 5s since 2 months now. And I've found that sometimes it does crashes up a lot in between and also doesn't work at all. And when I researched about it I found that it's not just the scenario in iPhone but Playbox HD is also not working sometimes on Android and also in Chromecast I've found, While I was search "PlayBox HD not working" I found one Crashing Guide/Fix solution for this.
For the people who don't know about this app let me just briefly tell you that PlayBox HD is the best online Movie Streaming App which allows you to watch your favourite movie for free and not just Movies but also TV Shows and other stuffs. And it's the Best Alternative of Sky HD, Popcorn time and Movie Box apps. You Can download PlayBox HD for Android from here and PlayBox HD for iOS/iPad/iPhone from here. If you want to use this app go here PlayBox HD Download.
Fix Movies Not Loading in PlayBox HD App
Fix playbox hd movies not loading issue in mobiles/tablets or PC/Laptop. I've found this fix while I was researching on this product and when I was facing the same trouble while playing movies in Playbox HD app. Follow the below Crashing Guide to Fix Playbox not working issue.
Open PlayBox App and select any Movie/TV Show which you want to play.
So while playing if you see any Popup saying "Movie Loading Problem" or "An Unknown error occured (-12668)" then click OK button.
Now one you Click OK button, you can see "720p" written on the below right hand side. Just click on that and change your resolution to any other resolution. Now this should Fix your Playbox HD Movies not working issue. If not than don't worry check below methods.
#1 PlayBox HD not Working on iPad Fix
Playbox HD not working on iPhone or iPod Touch, this solution apply's to all Apple Devices. Follow the below guide to fix it.
Go to Settings –> General Settings –> Date & Time option–> Turn off "Set Automatically option"–> And Set the time to 01-01-2015.
Now start your PlayBox HD App and try to play any movie. It should play and should fix your problem. And then later you can fix your wrong Timing.
This solution should fix your PlayBox hd not working on iPod touch/iPad/iPhone/iOS problem.
#2 PlayBox HD App not Working on Android Phones
I've tested this with my Moto G (2nd Generation) Android Device. To Fix PlayBox HD app not working on android devices all you need to do is follow the same procedure which I've mentioned on point #1. Change the time as we changed for ipad/iOS settings.
Go to Settings > Genera > Date and Time > Set time to 01-01-2015.
Now it should work.
#3 PlayBox HD not working on iOS
Now here comes it this way. The General and Normal way to fix PlayBox HD loading problem is to change your time and try to play any movie as I've mentioned in point #1 and #2. But in most of the cases, while researching I've found that Playbox HD is working perfectly on iPhone 6 and 6+ device and on iOS 9 and iOS 9.0.1 but it's not working properly on iOS 8.2, iOS 8.3 and iOS 8.4 versions. I've seen people have complained that PlayBox HD not working on iOS 8.3 or iOS 8.2 or iOS 8.4 or iOS 8.1.2. It's working with the latest iOS version 9.1 but the problem is only with the older versions.
There is no solution is found yet for this issue but the only thing you can do is try to upgrade your iOS device if you've gotten update or you can try to use TaiG Jailbreak method. I know you might don't want to jail break your device and even I haven't but then you'll need to wait for the official solution for iOS 8.2 or iOS 8.3 or iOS 8.4 or iOS 8.1.2 or iOS 8.1.3. And don't worry I'll keep updating this article with latest solutions.
#4 Playbox hd not working with ChromeCast or PlayBox hd not casting
The best thing about playbox is you can watch your favourite Movie/shows on bigger screen as Playbox is available for Chromecast too. But while researching I've found that lots of users are facing some problem and have mentioned that playbox hd app not working properly with chromecast. I'm not sure about the below solution that it would work or not because I've not tested it yet, but still you can try.
Connect your Chromecast and your Device on which you are going to watch your favourite show on same network.
Cast button you can find on top right corner of the player.
Now if your Playbox hd casting not working then try while playing movie and change to some other streams. This might should work.
#5 Playbox HD Crashing
While writing this article, I was trying to open vShare on my iPhone and found vShare Crashing can also be the case of Playbox hd crashing. I tried couple of times but with both the app playbox hd crashing I was facing.
So then later, I figured out the solution. Here it is:
Follow this step in order: Close PlayBox hd app–> Go to Settings–> Turn off 3G Services, Wi-Fi and Turn ON Airplane mode.
Now all you need to do is Open Up Playbox HD Application once again and turn on 3G Celluar Data or Wifi and Turn OFF Airplane mode.
This might should help you to fix Playbox hd not opening problem. It works with iPhone 6, iPhone 4S, iPad 6.1.2, iPad 6.1.3, iPad 2, iPhone 4, iPhone 4S, iOS 6.1.5 & iOS 6.1.6 and all rest of the devices. Even for Playbox hd crashing in Android phone your can try this method.
#6 PlayBox HD Not opening problem
I've seen many users have complained that PlayBox hd apk not Opening or some says PlayBox hd is not loading but don't worry I've found solution for tha ttoo.
To fix this problem in playbox hd app got to wifi settings –> DNS –> Now Change your DNS to 8.8.8.8 –> Now Open Playbox App.
This should definitely work and fix your not opening problem of playbox hd and not loading problem of playbox application.
#7 Downloading Problem with PlayBox HD
In Playbox not only watching movies online but downloading option is also available as we all know and most of the users including me are facing problem while downloading movie to android or iOS or PC Devices.
For Android Users: Use different stream or try to download while playing the movie.
For iOS/iPad/iPod Touch/Mac/iPhone: Switch Off the Device and Try to Download after restarting your iOS Device.
The Possible error you might get are can't download or download unsuccessful or file no found or try again download so if you get these errors make sure to check your network and try different streams.
So keeping in regard for all the errors. There are still some issues with the Playbox HD Applications that developers are trying to fix. And most of the common error is Movies not Loading Issue. So We tried to contact the original developers and check the below Image on official solution they provided.
I'd hope you liked our article on PlayBox HD not Working on iPad/Android/iOS,ChromeCast,PlayBox HD Crashing Fix. I hope that your problem is now solved and if not than please feel free to leave a comment below and if you have any other solution please comment below to help other users. We are happy to help anything related to PlayBox HD App and it's community.