8 Best Sites to Create WOW InfoGraphics Online for Free!!
There is a kind of image that has become very viral on the internet lately, mainly due to Facebook. We are talking of Infographics, which are nothing more than images very organized and condensed information, thus facilitating the sharing social media.
These types of images may be useful for any company that has a Fan Page on Facebook and you want to publicize your business, for companies that have a blog that want to condense information in an image or even a freelancer who wish to make a summary of its features in a different way, avoiding some of the usual portfolio. Infographics can be created regardless of their business area, which makes it a useful tool for all professionals.
Despite of Infographics sites that will speak and then have them big free, the truth is that many even require a paid account so you can make the best possible tools they offer. But creating this kind of images is not something you do from one moment to another, it is necessary to collect statistical data, choosing the right template to create the image, know how to keep the simple graphics and useful at the same time, among other factors. The last advice I can pass on creating an infographic is to leave you the link or your company's name on the image at the end of the image, so that then can take some advantage of the construction of this infographic. Now that you know some of the basics about creating an Infographics, it's time to check our list!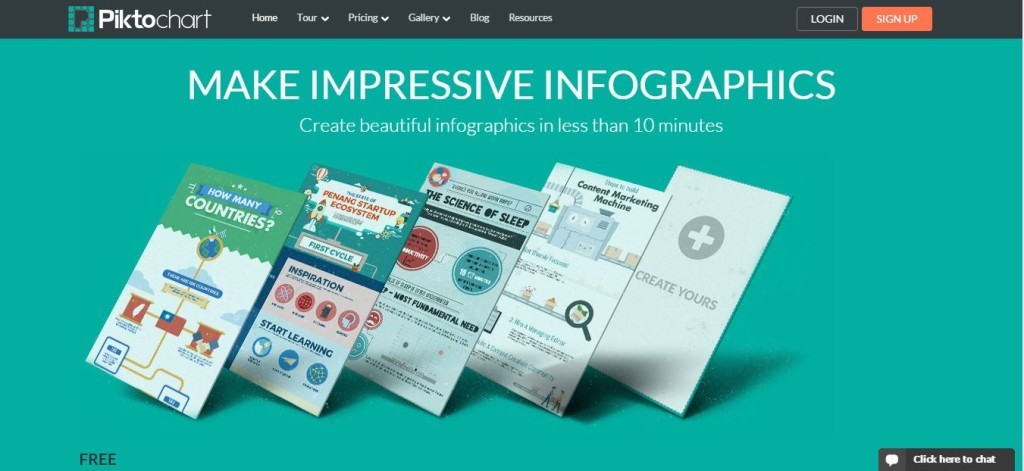 Perhaps the most comprehensive but also the most expensive of our list of sites to create infographics. In Piktochart you have access to a huge amount of predefined templates (the more pay the higher number of options) and still have the possibility to insert the logo of your company.Indeed, the construction process is very simple: you have the template, change the data that are already filled with those who will use and is ready to your image. Furthermore, the Piktochart avoids the problem you could find a competitor using their same template. This is because this site offers up over 100 different templates. You can work with it for free, but it ends very limiting their work. In addition, the option pays ultimately allow you to remove the logo Piktochart. Last but not least, the site is usually constantly looking for new designers. Watch out if you are a professional in this area!
Price: free to $ 29 monthly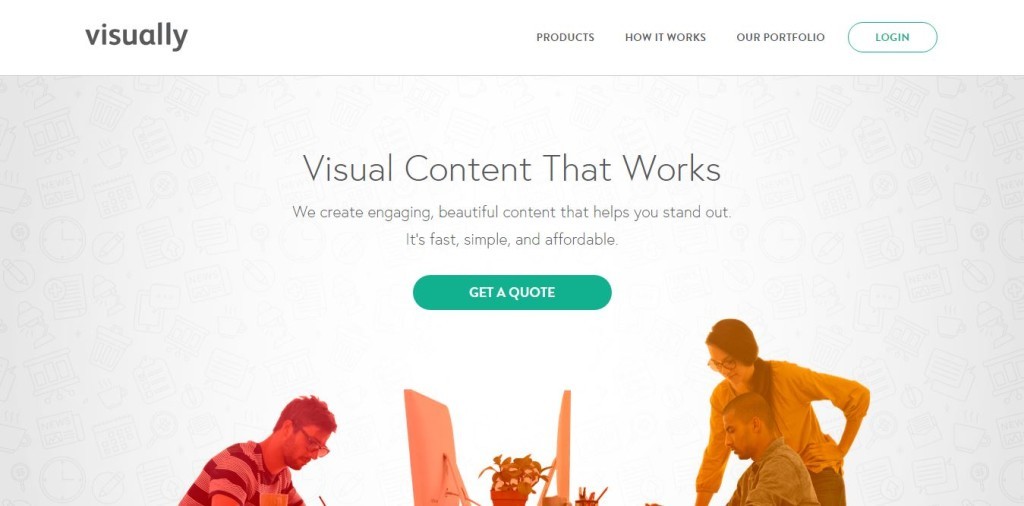 If you were looking for a tool, this is one of the best options.The Visual.ly is completely free and works in a very simple way: there are several categories that have predefined templates.Obviously, you need to choose the one that best suits the message you want to convey. Being free ends up limiting on one point: the number of offers is not so variable and in certain areas of business is normal that you do not find an interesting infographic for you. In addition, it's likely that your competitor may also be using the Visual.ly. The information is created from their social interactions (Facebook, Twitter or LinkedIn), which can create interesting images especially for personal branding.
Price: Free

You know those amazing videos with a sequence out of the ordinary and super images worked? With Fluxvfx you can now create these same videos in a very simple way. The only requirement needed is the minimum knowledge of After Effects, but no doubt the site itself also gives a help. The process is again very simple. You pay for a video sequence (the regular price is around $ 40) and then all images and text are editable. Just to let you choose your video, buy and then edit on your own computer. Although it may be slightly more expensive of all the options presented in this text, Fluxvfx presents a very different choice from the others and therefore this type of infographic should be considered as very useful. It also offers free templates for testing.
Price: from free to $ 35

I came to know about this site recently on twitter and it good to talk about it. It is the sites that are more years in the market and lets you create very interesting images. You simply enter your data and itself generates images with their statistical data. Initially, you are choosing the type of demonstration data that will show up (through balls, graphics, etc). It all depends on your imagination and of course, the more accurate are their most quality results will have your image. In the first minutes it is normal that you have some difficulty dealing with the platform but I believe little later you'll be more comfortable.If you have any questions, just leave a comment at the end of the article.
Price: Free
You want to work your personal branding through infographics? This site is another excellent option. It is based on its connection with LinkedIn to create a personal infographic which makes known its summary, the places where he worked and how long you were in them the skills that it is highlighted, their interests and of course all recommendations you have on your profile. And all this happens in a matter of second: you connect with the account of your LinkedIn profile, give your email address and username and the site features its own infographic. This may be an excellent option for customers who have your LinkedIn worked in a correct manner and intend to make a short summary of your route to customers. How about trying the Vizualize.me to display a different portfolio? Note that the site is still in beta.
Price: Free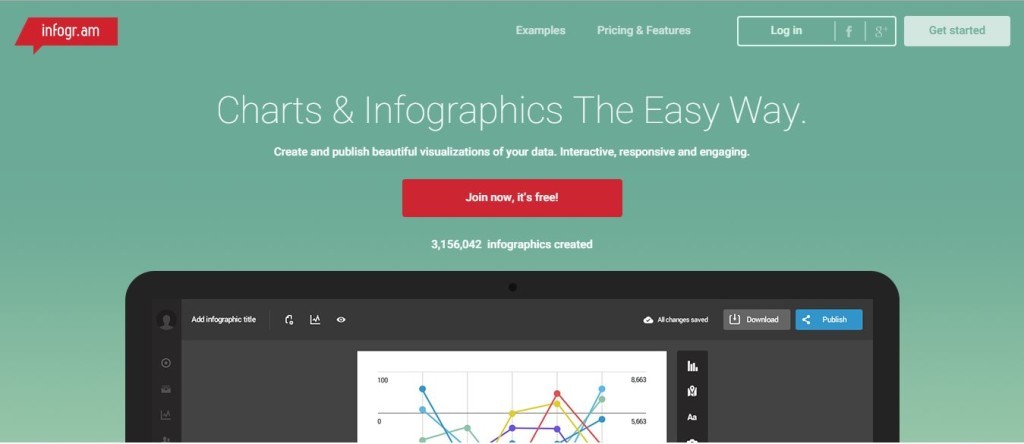 Another simple platform, free and effective. The Infogr.am just ask your login (can be done through social networks) and soon after you give guys with a very simple panel where you just need to choose the template you want to start drawing. This will allow you to work only with the images created this template or add a few more points to your infographic. Two clicks are enough to "open" the data and be able to change them. Another interesting point is that you can control its width, a point to take into account mainly on Facebook due to the size of the image can make your little readable infographic. However, due to being a free website, you always have to have the image of the site at the end of your infographic. Anyway, I recommend this site to all those who want to create an Infographic but do not want to waste too much time with it.
Price: Free

It is one of the sites with more options when it comes to diagrams although they also have some associated cost. In Creately you can create diagrams of all shapes and sizes need only enter their details. And these same infographics can be made online, on your desktop or through plugins.Despite the price for a single person be reduced ($ 5 a month for the online version), the site pays enough if used together and eventually get to a ridiculous ask. You still have the free version but has some limitations, mainly the level of available public diagrams.
Price: from free to $ 75 a month

Completely free, the Cacoo works in a very practical way when it comes to teamwork.With this site, you can create very interesting diagrams by simply transferring the forms from one side to the other, to enter text somewhere else or even insert images.Its interface is a bit complex at first sight – can not create anything out of this world in the first minutes – but I believe that any user after some time you will achieve better results and can then share or save the image you have created. It is very interesting for those who have to submit data or even organizational charts for some work or client. Another of its advantages is to be completely free and login to be done by a Google account, Facebook or Twitter.
Price: Free
READY TO CREATE INFOGRAPHICS?
All sites listed above are excellent choices, especially the first options as are those who actually have a higher quality. In many cases it is not completely free to create such images but I believe that all of these sites to create Infographics you will be closer to achieving a viral image and make success in a social network.
And you have used any of these sites? If so, tell us your experience.
We will be very glad to hear what you have to tell us!